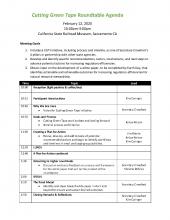 California Natural Resources Agency
Details

February 12, 2020
10:00am-3:00pm
California State Railroad Museum, Sacramento CA

Meeting Goals

Introduce CGT Initiative, including process and timeline, as one of Secretary Crowfoot's 4 pillars in partnership with other state agencies.
Develop and identify specific recommendations, tactics, mechanisms, and next steps to advance potential actions for increasing regulatory efficiencies.
Obtain input on the development of a white paper, to be completed by Earth Day, that identifies actionable and achievable outcomes for increasing regulatory efficiencies for natural resource stewardship.