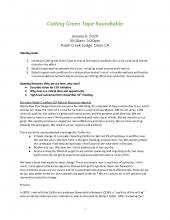 California Natural Resources Agency
Details

Meeting Goals

Introduce Cutting the Green Tape as one of Secretary Crowfoot's four pillars and build shared vision for this effort.
Establish approach to advance this vision, including broad process and timeline.
Establish goals and conditions for collaboration that will result in transformational yet feasible recommendations by Earth Day to achieve permitting efficiencies and other improvements.