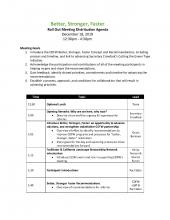 California Department Fish and Wildlife
Details

December 18, 2019
12:30pm - 4:30pm

Meeting Goals

Introduce the CDFW Better, Stronger, Faster Concept and Recommendations, including process and timeline, and link to advancing Secretary Crowfoot's Cutting the Green Tape Initiative.
Acknowledge the participation and contributions of all of the meeting participants in helping inspire and share the recommendations.
Gain feedback, identify shared priorities, commitments and timeline for advancing the recommendations.
Establish a process, approach, and conditions for collaboration that will result in achieving priorities.