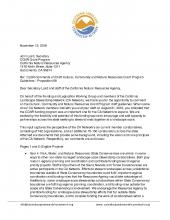 Comments on Draft Cultural, Community and Natural Resources Grant Program Guidelines - Proposition 68
California Landscape Stewardship Network
Capacity Building for Collaboration
California Landscape Stewardship Network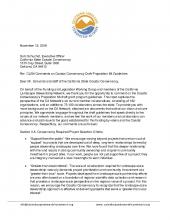 Comments on Coastal Conservancy Draft Proposition 68 Guidelines
California Landscape Stewardship Network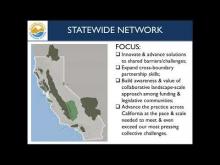 C2 Webinar: CA Landscape Stewardship Network
Details

The CA Landscape Stewardship Network envisions a California where everyone sees and embraces their role in caring for and sustaining the landscapes that are vital to our collective well-being; where we seek deep understanding and bold collaboration; and where we think, plan, and act beyond our individual boundaries to work at a pace and scale that meets and even exceeds our most pressing challenges. Join us to learn more about this new and inspiring network!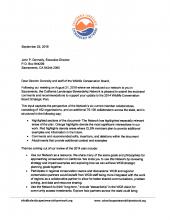 Comments on Wildlife Conservation Board Strategic Plan Update
California Landscape Stewardship Network
Details

Comments and recommendations submitted by the California Landscape Stewardship Network to the California Wildlife Conservation Board regarding their 2014 Strategic Plan update.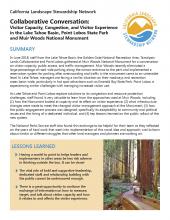 Collaborative Conversation: Visitor Capacity, Congestion, and Visitor Experience in the Lake Tahoe Basin, Point Lobos State Park and Muir Woods National Monument
California Landscape Stewardship Network
Details

In June 2018, staff from the Lake Tahoe Basin, the Golden Gate National Recreation Area, Tamalpais Lands Collaborative and Point Lobos gathered at Muir Woods National Monument for a conversation on visitor capacity, public access, and traffic management. Muir Woods recently eliminated a large percentage of road-side parking along the narrow entrance to the park and implemented a reservation system for parking after overcrowding and traffic in the monument came to an untenable level. In Lake Tahoe, managers are facing a similar situation on their roadways and recreation areas basin-wide, particularly in hot spot attractions such as Emerald Bay State Park. Point Lobos is experiencing similar challenges with managing increased visitor use.

As Lake Tahoe and Point Lobos explore solutions to its congestion and resource protection challenges, staff found it very valuable to learn from the approaches used at Muir Woods, including (1) how the Monument looked at capacity and its effect on visitor experience, (2) what infrastructure changes were made to meet the changed visitor management approach at the Monument, (3) how the public engagement process was designed, specifically its adaptability to community and political issues and the hiring of a dedicated individual, and (4) key lessons learned on the public rollout of the new system.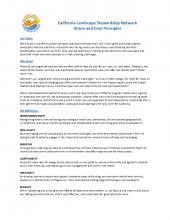 California Landscape Stewardship Network Vision and Core Principles
California Landscape Stewardship Network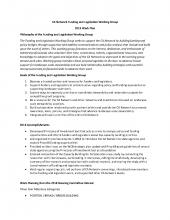 CA Network Funding and Legislation Working Group 2019 Work Plan
California Landscape Stewardship Network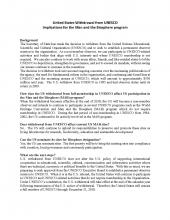 United States Withdrawal from UNESCO Implications for the Man and the Biosphere program
Details

The Secretary of State has made the decision to withdraw from the United Nations Educational, Scientific and Cultural Organization (UNESCO) and to seek to establish a permanent observer mission to the organization.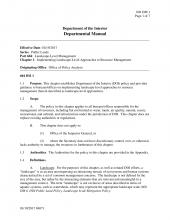 Implementing Landscape Scale Approaches to Resource Management
US Department of Interior
Details

This chapter from the Department of Interior (DOI) Manual establishes policy and provides guidance to bureaus/offices on implementing landscape-level approaches to resource management. It highlights the need to meaningfully coordinate with diverse stakeholders, consider actions and implications at multiple scales, take integrative and interdisciplinary approaches to landscape management, and improving resilience by working at landscape scales.